Let the kids play (and learn) with 90's PC Games
Last Updated: 2018.03.23
I don't have kids. But I run a small digital development business, so a few weeks ago when a friend asked if I could recommend any educational games for his girls, I decided to put together this guide.
Internet Killed the Edutainment Star
Educational computer games seem to have lost their luster since the dot-com bubble burst. The ones on today's app stores are hard to pick through: some don't teach anything, some aren't fun, and some are misleading product placement campaigns. To be fair, I imagine the economics of software development aren't as conducive to producing fun educational games as they once were. But I would be glad to be proven wrong.
I played computer games throughout my childhood in what may have been the golden age of kids games. Like many developers I know, I first learned to use the command line when my dad showed me how to start a game on my own (in my case I think it was Asteroids on a 386). The rise of personal computing meant there was money to be made in software, and the competitive and technical challenges of creating more compelling graphics and interaction led to some innovative games before the euphoria of the internet swept everything up.
But as it turns out, many of the best games from that late 80s to 90s era are now available for free as 'abandonware.' Which is to say, they are no longer sold — or prevented from being distributed for free — because the respective operating systems and hardware they were built for are now obsolete in the retail market. And while there are already sites and how-to's aimed at nostalgic 90s computer enthusiasts, most parents do not have the time to sift through all of that and then dig up the good games for their kids. Or at least, so I am told. 🙂
Getting Started
If you have a Mac or a Windows computer, whether you can setup an old one as a dedicated kids computer or you are glad to share your personal laptop, this guide should have you going in just a few minutes. If you are on a tablets or a phone, come back when you are on a computer with a keyboard.
Take a look through the recommended game list, try a few out, and when you're comfortable, let your kids try. On Windows, hold down the Ctrl (i.e. Control) key when you click on a link to open it in a new tab. On a Mac, hold down the Command key (the one with the ⌘ symbol) to do the same.
When possible, the guide links to the Internet Archive where you can play many of these games in your browser and download some as well. You can't save your progress between sessions in your web browser so the guide also links to My Abandonware for some of the games. The pages on My Abandonware are a little cluttered but find the blue Download Button with the english flag under the 'DOS Version' headline and click it to download the game.
Once you download the game, you can set it up for repeated play with an emulator, as is explained in more detail towards the end of this guide. Also, My Abandonware has PDFs of some of the game booklets, and Moby Games has scans of the boxes for most of them in the respective Cover Art section. The back of the box scan often has a concise introduction to the game.
Recommended Games
The games are organized by age group. Each entry includes a screenshot, a description, a list of relevant skills, and links to where you can play and/or download the games. The age groups are really just rough guidelines, so let your kids' follow their curiosity, and they will have more fun and learn more.
Also, in most instances where games are part of a series, I have listed only one game, but other games in each series might fit with other age groups. And please note that many of these games make use of the escape key (esc in the top left corner of your keyboard) much more than most programs do today, and they often use older Windows-like controls (Ctrl-Q to quit).
And before we jump in, thanks to everyone who made these games and who have kept them accessible on-line!
Ages 3+
At this age, the best games require very little keyboard use and tend to focus on exploration and free learning. You won't really miss much by playing them in the browser.
Reader Rabbit Ready for Letters
As the back cover claims, Ready for Letters is a great first game for the little ones. No reading is required for navigation (beyond number recognition) but the player can start recognizing words, while helping make a cake for instance. The synthesized voices in this game were a big step forward. The Reader Rabbit series had a lot of hits across age groups, so be sure to explore the series if you are looking for reading games.
Skills: letters, sorting, exploring.
Richard Scarry's Busytown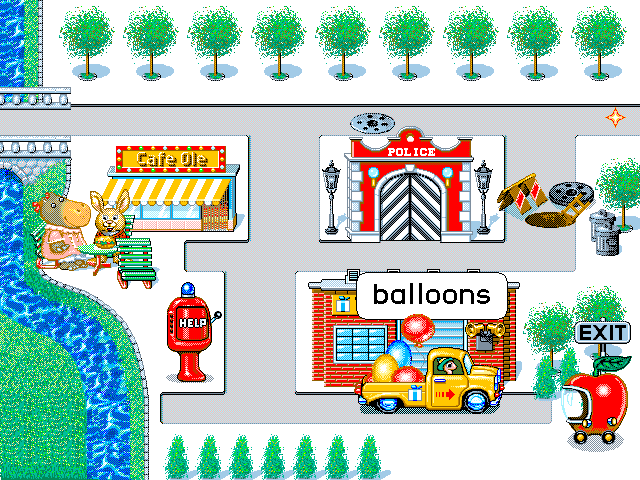 Richard Scarry was a very prolific children's book author and illustrator, and Busytown is an exploratory puzzle game with a rather cloying soundtrack filled with his characters. The animations and puzzles can be fun for kids. This game doesn't seem to be readily available for download but there's no progress tracking anyway. Just click around to play and explore in your browser.
Skills: exploration, puzzle solving.
The Treehouse
This game has a lot going on: puzzles, a synthesizer, little rodent-like avatars. It's a fun one for kids who are getting a little more comfortable with the computer.
Skills: basic math, vocab, sentences, animals, music.
Ages 5+ (Kindergarten-3rd)
Many of the best games for this age group involve more involved keyboard use and repeated exercises.
Math Blaster Plus!
With multiple sub-games, difficulty settings and math skills, Math Blaster Plus! can keep players across grade levels engaged for many sessions. Some of the games simply have a novel animations or interaction while others interrupt some sort of arcade game play with math questions. And it's good prep for those Math Minute tests.
This franchise is still alive but I am not sold on their iOS apps.
Skills: arithmetic.
Kid Pix
This drawing studio has a wide variety of tools, sounds, and effects that make for a fun, open-ended experience. Even though there are many more drawinng programs available now, Kid Pix still stands out for its playful, synergistic approach to multimedia creation.
Skills: drawing.
Where in the World is Carmen Sandiego?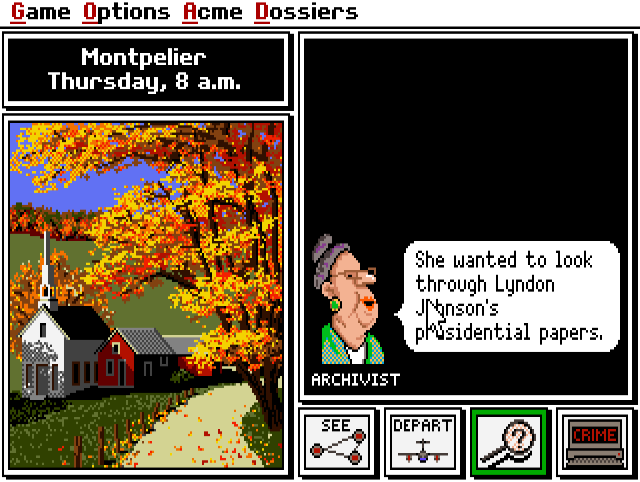 So this game was a phenomenon, not least because it was one of the first games to feature a strong female lead (albeit as a villain). There were many, many games in the series (e.g. Where in North Dakota is Carmen Sandiego?) as well as a TV show but the structure never changed much. Gather clues and find the crooks, wherever they are. The original game came with a paper copy of The World Almanac and Book of Facts to aid the player's sleuthing.
Skills: geography, problem solving.
JumpStart 1st Grade
I didn't particularly enjoy these games as a kid, but I may have been too old for them by the time they were on the market. There are many games in the series but none of the others appear to be available online.
JumpStart is also an active franchise, but like Math Blaster, the new games don't seem to hold up, at least at first glance.
Skills: evidently all sorts of things related to 1st grade.
Number Munchers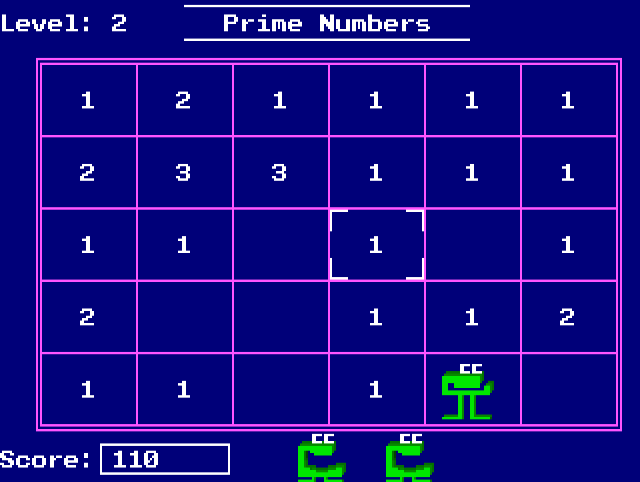 A very straightforward Pac-Man meets math game. It's not as rewarding as some of the others listed here but still worth a try.
Skills: arithmetic.
The Incredible Machine
A challenging puzzle game consisting of pulleys, hamster wheels, and rockets galore, The Incredible Machine will appeal to Rube Goldberg enthusiasts and future engineers alike.
Skills: problem solving, mechanics.
Mavis Beacon Teaches Typing
Some kids love typing programs. Others loathe them. But all kids will still have learn to type, at least for a few more decades. Mavis Beacon was a very popular program but woe to the person who brags about their words-per-minute score.
Skills: typing.
Ages 8+ (3rd and up)
The games for this age group are more complicated and challenging. Many of these games track progress across multiple sessions, so you should download them so can you save your progress..
Super Solvers: Outnumbered
Super Solvers was another very successful series. The idea in this edition is that you have to stop an evil mad scientist from taking over the local TV station with his boring programming. Mutatis mutandis. The arcade style gameplay pairs well with some challenging math problems. Strongly recommended, as are many of the other games in the series, especially Treasure Mathstorm and Super Solvers: Spellbound.
Skills: math, problem solving.
Eagle Eye Mysteries
While Moby Games might be overselling Eagle Eye Mysteries when they describe it as 'a bit like Law & Order for kids,' this game is at least a sort of more involved Carmen Sandiego albeit without the geography and a lot more white people. There's also a sequel set in London.
Skills: problem solving, reading comprehension.
Oregon Trail Deluxe
This game achieved a cult-like following for its ubiquity and deadpan seriousness (e.g. 'Jane died of dysentery'), but it's also afun way to learn some plannings skills and a little American history and geography. The original was huge success for the producers, MECC, and there were a variety of sequels as well as an Amazon Trail spin-off.
Skills: planning, geography.
The Island of Dr. Brain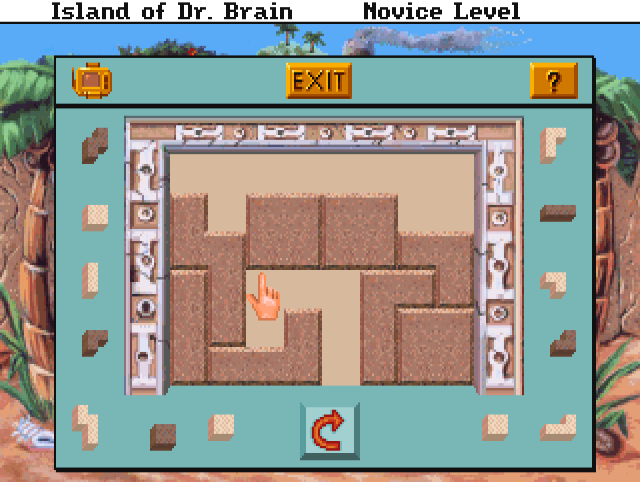 Perhaps the ultimate puzzle game series, the Dr. Brain games were challenging and creative.
I'm listing more links here because I really loved a lot of these games. Unfortunately, the later games, which are better, are more involved to setup. Start with Island and then see if you'd be interested in the others.
Skills: problem solving.
Some known omissions
Unfortunately some of the older classics like Sticky Bear don't seem to run very well. One of my favorite animator games Thinkin' Things isn't readily available. And there are also some excellent story-based games from aLucasArts that involve problem solving (e.g. The Dig, Full Throttle, Monkey Island) as well as story creator programs (e.g. X-Men Cartoon Maker) that could be fun for some.
Setting up an Emulator
So almost all of the games listed above were made for MS-DOS, Microsoft's operating system before Windows. While some websites have emulators built-in for you, you will need an emulator to run the games on your computer. My Abandonware has a decent intro to emulator optiona but we are going to keep it simple.
Mac: Boxer
Download and install Boxer. Then drop the downloaded and unzipped game folders into it's drag-and-drop import interface. Start the game installer and then cancel it (you don't need to install the game on the emulator because it's already there).
Then, the first time you launch the game, you will need to select the program to run. Pick the one that looks most like the title of the game, and if it works, then select to start with that program every time.
Now you are all set! Be sure to save your game when you are finished with a session.
Windows: D-Fend Reloaded
Download D-Fend Reloaded and install it. Then add the games you want to play. I have not used this but it seems like the way to go. If you have Windows and get this going, please let me know if there are any tricky parts that should be explained.
Further reading
I consulted lists at PCWorld, PCMag, and Bustle while compiling my list so check those out if you want some more titles to explore.
If you are still curious to explore more old games, here are a few decent links into the Internet Archive's collections:
And if you're interested to learn more about the history of educational software, this blog post about Carmen Sandiego and the rise of edutainment from The Digital Antiquarian covers a lot of ground.
---
Think this guide could be improved? Send your thoughts to [email protected]. Feel free to share this guide and quote it with attribution, but please don't cannibalize it to sell ads. Thanks!